Some travel apps are godsend. It breaks through the clutter and gives you exactly what you want, when you want. I've figured I've been focussing on travel tips over the past few posts so I'm going to take a different route and talk about my go-to travel apps.
I'm sure a lot of you use these apps but for those of you who are battling with serious patience issues (like moi) can takeaway something from this post.
1# Splitwise – To Tally Expenses
I think some people are born to keep tabs on their friends. And they do it effortlessly too. However, I personally, can't keep track of every single expense (also, I'm not good at math) which is why Splitwise comes in handy. The best part about this app is that you can add the number of friends that are travelling with you, your total cash in hand and record every expense as they happen in the respective currency. Right after you do that, the app totals how much you owe each person and how much you're supposed to get back. Once you pay your friend off, you simply select "Settle up" and it clears the account. Cool yeah? Here's a screenshot I found and you can download the app right here: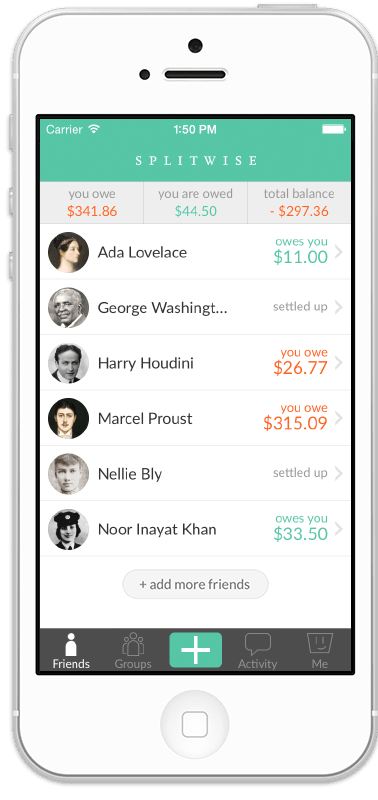 Wow, I just realised that these guys used George Washington and Ada Lovelace as examples. And by the looks of it Houdini is probably gonna be one of those friends that never pays you back. Just saying. You best believe that's bad debt right there.
2# Booking.com – For Best Price Match
And I'll tell you why, because so far Booking.com seems to be the only app that has the best price matches. This is just my personal opinion. I've tried Trivago before and it always shows you this really small price when in fact the price varies as soon as you click on the deal. If you're looking for a hotel or a hostel, I would say pick Booking.com cause it has got the best price matches and their refund policies are spot on. The app sends you notifications for your next travel date and most reviews are quite honest. Booking.com also has Genius Points that give you a great discount and all you have to do is use the app five times to book your accommodation to unlock these points.
3# Airbnb – To Unlock Experiences
Airbnb might not be the best for couch-surfing but the fact that you've now got experiences in different cities is a great addition to your travels. You can still book a place in a hotel and pay for some of these experiences on Airbnb, meet locals and get a tour of the place and that to me is pure genius. I'll make sure to unlock a few experiences and review them next.
 4# Skyscanner – Best Deals For Flights
If you need the best deals for air tickets to Europe (especially Europe) then I'd pick Skyscanner. I've tried TripAdvisor for booking tickets but I found that its just another Trivago, where it takes you to the main site and then you see added tax which makes the deal irrelevant. If you're based here in the Middle East or India, South East Asia basically, then skyscanner is the way to go.
5# TripAdvisor – Honest Reviews 
I've come across some of the most honest reviews about places and tours on TripAdvisor and that's why I simply cannot plan a trip without reading a couple of reviews. I love how most travel bloggers come out on TripAdvisor to give their tips and hacks on how to get around a place and to top it all the community itself is really helpful.
6# AccuWeather – Accurate Weather Readings
I know that most people prefer the Weather app cause it's just faster. I guess the only drawback of this app is the UX/UI. That being said, Accuweather is definitely a life saver when it comes to predicting tropical climates especially in parts of South East Asia. It gives you an hourly breakdown so that you can map your travels with ease and even estimate the weather for the days to come.
These are my top six travel apps that I simply cannot live without. I'm sure there are new travel apps out there that are better, more improved so if you want me to review a travel app let me know by commenting below. Similarly, if you've had a bad experience with any of the travel apps listed above then go ahead and rant.
#OkThanksbyyeeeeeeeeee